Want to enable Windows 10 file explorer dark theme? You can do that. Here in this article, you will find out the step by step guide on how to do that.
Windows 10 comes with the white color light theme when users try to use it for the first time after installation. But in case, you're not a great fan of a light theme, no problem, the Windows OS also has a dark theme too.
When the Dark mode is enabled; the effect of the dark mode is only limited to preinstalled apps like Windows Store, Calendar, Mail, and other Universal Windows Platform applications. That means dark mode will have no effect on the Windows 10 File Explorer.
There are lots of users who want to enable Windows 10 file explorer dark theme so that to change the overall look of User Interface.
How to Enable Windows 10 File Explorer Dark Theme
Unfortunately, there is no official option available to enable Windows 10 dark explorer. The users demanding for the dark mode from the day Windows 10 operating system first become public for the user. As of writing this post, the company has released Windows 10 Anniversary update, creators update, fall creator update, but there is no option available to do so.
There are lots of users want to enable dark mode for File Explorer, and due to this reason, I decided to cover some possible ways to enable the dark theme for File Explorer in Windows 10.
So without further delay why don't you start reading about that:
1. Enable Dark File Explorer using Theme
The Deviant art users Generation-Blue created a fantastic dark high contract theme for Windows 10 which looks pretty good, and the overall experience looks much better with this theme. This is how Windows 10 File Explorer looks like using this Windows 10 them.
The good thing about this theme is that you don't require any third party program. Just download the File Explorer dark theme and install it.
Check the following video for clear idea:
The theme is by far the best theme available to enable the dark theme for Windows 10 File Explorer. Also, if you're using Google Chrome and Firefox, then you need use a dark theme for the browser.
Google Chrome – Enable this Chrome Theme (Morpheon Theme)
Firefox – Enable this Firefox Dark Theme (Dark Theme for Browser)
Edge – Click on (…) More action icon -> Settings -> Choose a theme -> Select Dark.
2. Windows 10 UWP File Explorer Dark Theme (Creator Update)
Starting with Windows 10 Creators update, the Windows 10 version 1703 or above, there is a hidden UWP version of File Explorer available. The good thing about this hidden app is that it turns black when you enable dark mode available in the Settings app.
So if you want to enable the dark theme for Windows 10 File Explorer, then first you need to unlock the UWP File Explorer. Here is how you can do that:
1. Make a right click on the Desktop and from the context menu select 'Shortcut.'
2. The new shortcut window will appear. In the space provided you need to paste the location for the new shortcut and click 'Next.'
Here is the location:
explorer shell:AppsFolder\c5e2524a-ea46-4f67-841f-6a9465d9d515_cw5n1h2txyewy!App
3. In the next screen give the name to new shortcut.
In my case, I named it 'New File Explorer.' This is how the shortcut for new File Explorer looks like: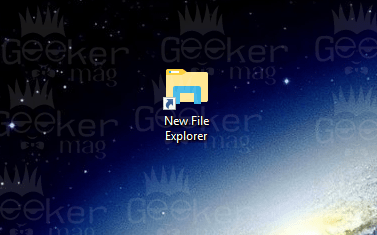 4. Double click on the shortcut to launch it. The following file explorer will open.
Note: In case, you're using the Light theme then File Explorer will also use the light theme. To enable the dark mode for new File Explorer, you need to navigate to Settings -> Personalization -> Colors -> Choose your mode (on the right panel).
File Explorer with Light Theme
File Explorer with Black Theme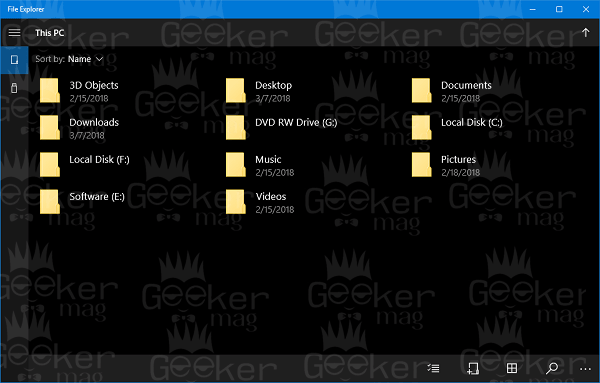 That's it, friend.
I hope you find this article on how to enable Windows 10 file explorer dark theme useful. Let me know your thoughts in the comments.