.Net Framework 4.7.2 Offline Installer for Windows 10 is what you need? The following blog post has the download link accompanied by everything you need to know about it.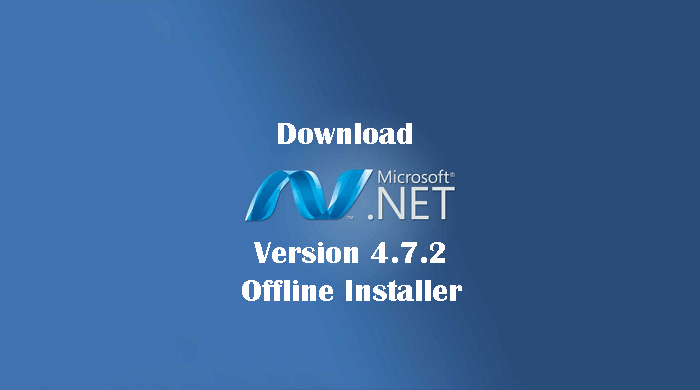 Windows 10 April 2018 update is finally available for users all across the globe. It comes with lots of useful features, settings and more. With this update, the company also releases the new version of the .Net Framework and its name is Dot Net Framework 4.7.2.
The latest version of the Microsoft's .Net Framework is integrated into the Windows 10 version 1803 (April 2018 update). The company has released the update for Windows 10 version 1607 anniversary update, Creators Update, Fall Creators Update accompanied by Windows 7 and Windows 8.1.
.Net Framework 4.7.2 has new changelog and comes with various changes like:
Better decompression for ZIP archives
New overloads of RSA.Create and DSA.Create
New SignerInfo members
Ephemeral keys support
ASP.NET Support for similar website cookies
Support for dependency injection in Web Forms
Implementation of HttpClientHandler properties
Support for Always Encrypted version 2
Finding ResourceDictionaries by Source
Finding ResourceDictionary owners
Finding StaticResource references
Additional collection APIs
For detailed information, you can visit this web page.
Download .Net Framework 4.7.2 Offline Installer
There might users running the older version of dot network framework and would like to download the latest one. Currently, the Windows users can grab the latest version.Net Framework Offline Installer and the Web Installer. The Web Installer method is recommended, but most of the users prefer to use Offline Installer.
Whether you need an offline or web installer of dot network framework, you can use the following link to grab one:
The size of .Net Framework 4.7.2 Offline Installer is around 68 MB
That's it!
Why don't you download .Net Framework 4.7.2 Offline Installer on your Windows PC and check if the latest version causes an issue. What is the version of dot network framework you're running on your machine? Let me know your thoughts in the comments.
Donate on Paypal or Buy us a coffee or Join Patreon if you find the information shared in this blog post useful. Mention 'Coffee' in the Subject. So that I can thank you.