When it comes to online business and marketing, content is what matters most. But given that tons of assets get published daily, creating content shock and shortening the attention span, it becomes even more challenging to engage the audience today. To win the battle for users' interest, you need to focus on visuals.
The matter is that human brains process visual information 60,000 times better than text. Indeed, 90% of the info we receive is non-verbal; and we remember about 80% of what we see, compared to only 20% of what we read. So, for the audience to get engaged and retain your content, follow the "Show, don't tell" principle of creating it.
In this article, you'll explore the top-notch tool named Crello, which helps with web design to improve your business and creates compelling visuals for your audience engagement and sales.
What is Crello?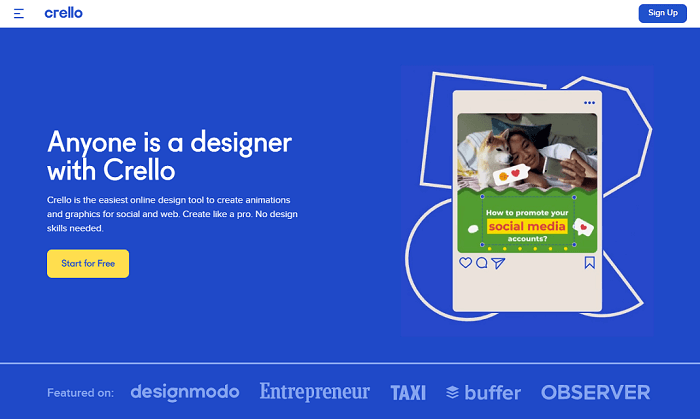 Crello is a stellar online design tool for everyone in need of high-quality images and other visual content types. You can use it to make an animation, create eye-catching pictures for all social media, craft visuals for your blog or marketing materials, or choose among millions of premium photos and videos in their library.
With Crello, everyone can be a designer. Whether you're a freelancer, a marketer, or a business owner, you can use the tool to create almost any design in a few clicks.
Crello's Main Features and Principles of Work
Crello gives you access to 30,000+ original templates (over 25,000 ready-made static and 9,000 animated), allowing you to edit them whatever you want. You are also free to upload your own designs to the artboard and edit them with all the instruments Crello provides.
To start creating unique designs with this tool, you need to sign up for free, choose the customizable template from the library (or download your own), and start personalizing it.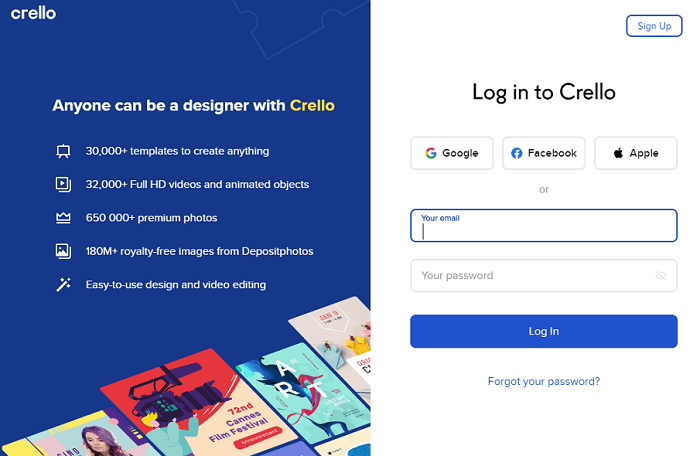 For engaging the audience with Crello, consider the following features:
Edit your content whatever you want: add frames and texts to photos, apply beautiful filters; resize, crop, or rotate images; change colors and backgrounds. An easy-to-use drag-and-drop editor will help with that.
Design objects at your visuals: use shapes, add badges, create labels, craft thematic stickers, and design your own icons.
Animate elements of your content assets: zoom shapes in and out, animate logos and other objects, and more.
Resize or trip video content: use Crello's library of video clips, or upload yours and trim them in a snap.
All the formats in Crello's library are regularly updated, so you can always find the trendiest ones on your artboard and edit each to suit your business, marketing, or personal needs. Once ready, download your designs in high-quality JPG or PNG files.
4 Ways to Engage the Audience with Crello
All the templates in Crello's library of design objects help you create beautiful and recognizable visuals to grab the users' attention and meet your business goals. Here go just a few ways to engage your audience with Crello:
The benefits of social media marketing for your business are hard to overestimate. It's not only about increasing sales but growing your brand awareness, increasing traffic, and promoting your brand too. The big chances are that your target audience uses at least one social media channel regularly, so you need both strategy and creativity to engage them there.
How can Crello help to engage your audience on social media?
Create eye-catching Facebook content in Crello: covers, graphics, stories – it's your chance to communicate the message and motivate the audience to take the desired action.
The same is for Instagram and Twitter: Use Crello to design stories and Instagram posts with animated graphics, or craft Twitter posts and headers.
YouTube channel art, thumbnails, and intros are easy to create with Crello too.
Design visuals for web content
Today, people pay more attention to visual content on your business website. And while the text is still important to communicate your marketing message to the audience, visuals help you grab the interest and encourage people to learn more.
Bright logos, beautiful yet relevant email and blog headers, infographics, ebook and presentation designs, collages, and newsletter designs are all available for creation and editing in Crello. Just choose the most relevant template in your artboard, and customize it to fit your brand identity and marketing needs.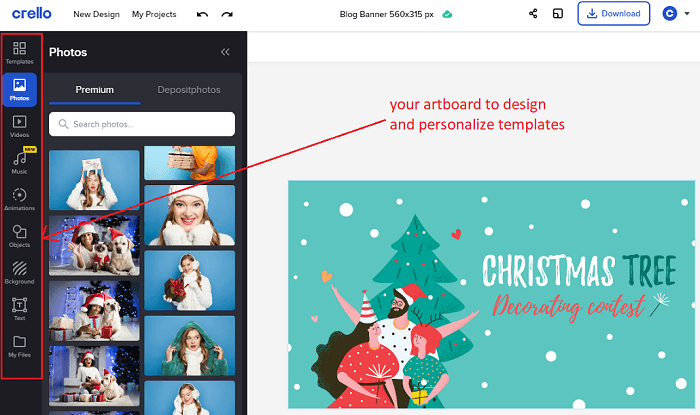 Craft engaging designs for promotional content
Display and social media advertising are a must-have for big and small businesses willing to increase visibility and attract traffic and leads. Engaging ad design is what can help to stand out and differentiate yourself from competitors. And that's where Crello comes to your aid too.
Use it to design eye-grabbing Facebook and Instagram ads, and do your best to craft display ads (banners, rich media, videos, or interstitial ads) for your website. With stellar design and CTA, they'll attract the audience and encourage them to click-through to your landing page.
Create designs for printed communications
If your business is not about online communication only, you can use Crello graphic designs to craft materials for offline contact with the audience too.
For example, you can engage the audience with bright business brochures or posters. Or, feel free to design cards for your customers and send them during the holiday season. When holding contests for your community, you might want to create a beautiful certificate for a winner. Invitations, motivational posters, business cards, flyers – Crello has them all for you.
Indeed, today you don't have to be a designer to create professionally-looking and eye-pleasing graphics, animations, and videos for business or personal needs. With tools like Crello, it's super easy to make your every project look fantastic. Ready to try?
As an independent platform, it takes a lot of effort to create and curate quality content daily. Our content is totally funded by users like you.
Therefore, if you find information on this website useful, we kindly ask for your support in maintaining the longevity of our platform. If each person who benefits from our website contributes, we can secure a brighter future for our website.
Donate on Paypal or Buy us a coffee if you find the information shared in this blog post useful. Mention 'Coffee' in the Subject. So that I can thank you