Microsoft recently released cumulative update for Windows 10 Version 1903 and 1809 for x64-based Systems (KB4503293) and (KB4503327). But it seems like the update breaks the Custom Views in Event Viewer in Windows 10.
After installing the latest update, lots of users start reporting about the same error. What actually happening is:
After installing the (KB4503293) and (KB4503327) Update, it breaks Event Viewer 'Custom Views,' meaning they can't be viewed and Event Viewer crashes. When trying to access them, a quick dialog box opens up showing an error message which reads:
"MMC has detected an error in a snap-in and will unload it"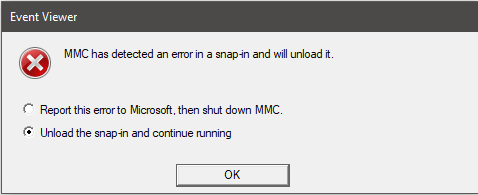 After that, if you select "Unload the snap-in and continue running," and click OK.
Now another dialog box "Unhandled Exception in Managed code Snap-in" opens showing the following messages: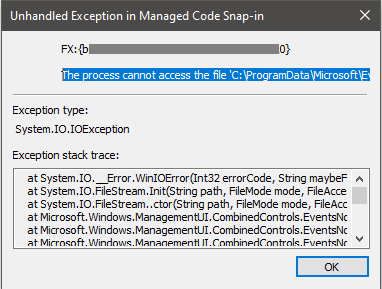 The process cannot access the file 'C:\ProgramData\Microsoft\Event Viewer\Views\View_0.xml' because it is being used by another process."
Fix – Windows 10 Commulative update break Event Viewer Custom Views
It is a very annoying issue. In case, you're seeing the same error message, then fret not. Fortunately, there's a quick workaround which you can use to fix the issue:
Launch File Explorer in Windows 10 and navigate to following location:
C:\ProgramData\Microsoft\Event Viewer\Views
Here, simply delete the View_0.xml or View_other number.xml file.
Now close everything and try to launch Event Viewer and check Custom Views. This you will not see any error message.
Alternate fix – Some users also suggested that they were able to fix the issue by renaming the file in Views folder. In case, the above method fails to fix the problem; then you can also try this method.
Update June 13/06/2019 –
Microsoft offers a workaround to view Event Viewer Custom Views in Windows 10 1903 after KB4503293. You can visit the following support page for the solution:
https://support.microsoft.com/en-in/help/4508640/event-viewer-may-close-or-you-may-receive-an-error-when-using-custom-v
Source – Deskmodder
If you find this blog post useful, please share it on Social Media. A quick share will help in growth of this blog. It hardly takes 10 seconds, isn't it?