If the process of Windows 10 Update Assistant stuck at 99% for more than four or five hours, then definitely something is really not good.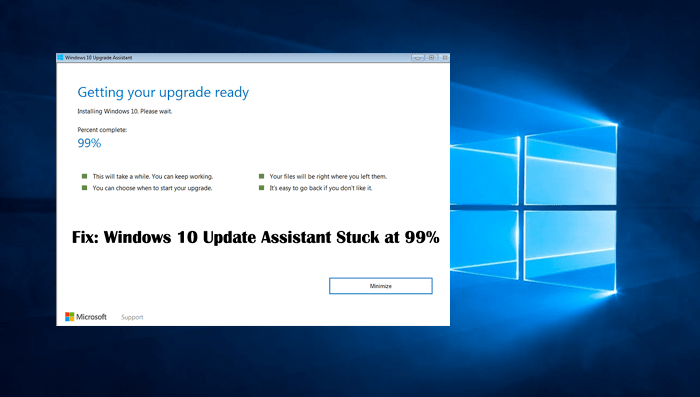 Lots of users complaining that when they taking help of Windows 10 upgrade assistant to upgrade from Windows 7 or Windows 8 to the latest version of Windows 10 the update progress stuck at 99%.
This is not only the case, some users also reported that when they were trying to upgrade their system to latest Windows 10 Anniversary Update or Creators Update, they also faced the same issue Windows 10 Update Assistant stuck at 99%.
Now, this is a really annoying issue. The good thing is that the issue is already recognized by Microsoft and to help users they have released troubleshooting guide to resolve the issue. But the bad thing is that not all the users got success in fixing the issue.
Basically, it is a tool released by Microsoft that helps you in simply updating your personal computer to Windows 10 Anniversary or Creators Update from the current version of Windows 10. But not users a satisfied from this upgrade tool.
Fix: Windows 10 Update Assistant Stuck at 99%
By keeping this thing in mind I decided to cover some of the possible solutions in this post using which you will be able to fix Windows 10 Update Assistant stuck at 99% issue. So here goes the first one:
1. Reboot PC
You must close Windows Upgrade Assistant tool and perform a quick restart. After that again use the tool to update your system to the latest version of Windows 10.
2. Check Hardware System Requirement
In case, you're upgrading from Windows 7 or Windows 8.1 to Windows 10, then you must check your system hardware requirement. Check out the system requirement:
For Windows 10 Anniversary Update
Processor: 1 gigahertz (GHz)
RAM: 2 GB for 64-bit and 1 GB for 32-bit
Hard Disk space: 20 GB for 64-bit OS and 16 GB for 32-bit OS
Display: 800×600
Graphics card: DirectX 9 or later
For Windows 10 Creators Update
RAM: 2 GB for both 64-bit and 32-bit
3. Disable Windows Update
Some users suggest that they fixed this issue by installing Windows Update manually. Here is what you need to do:
1. Run Windows 10 update assistant.
2. Press WIN + R to open RUN dialog box. In the space provided, type services.msc and click OK.
3. In the Services windows, you need to scroll down until you find service named as Windows Update. Make a right click and from the context menu select Stop.
4. After that, again make a right click on Windows Update service and click on Properties from context menu.
5. Here in the properties window, select Startup type to Manual using the drop-down. Click on the Apply and OK button to confirm the changes.
6. Close all the windows.
Now try to run Windows 10 Update Assistant and I'm sure this time you will not face Windows 10 Update Assistant Stuck at 99% issue. If this fails to fix the issue, try the next suggestion.
4. Purge Windows Update Cache
Sometimes due to Windows Update cache upgrade process faces issues. So it is recommended to purge Windows Update cache. For that, you need to follow these steps:
1. Restart your Windows 10 PC
2. Launch Elevated Command Prompt.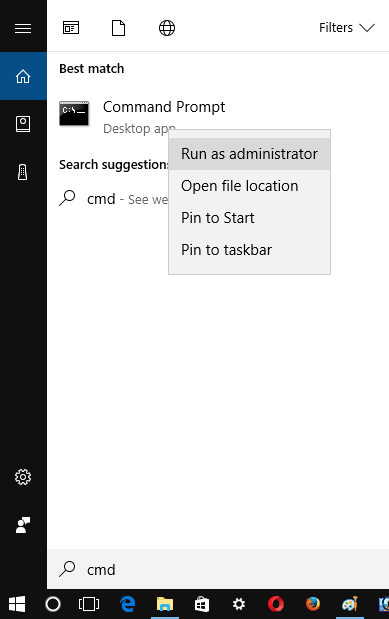 3. In the Command Prompt window type:
net stop wuauserv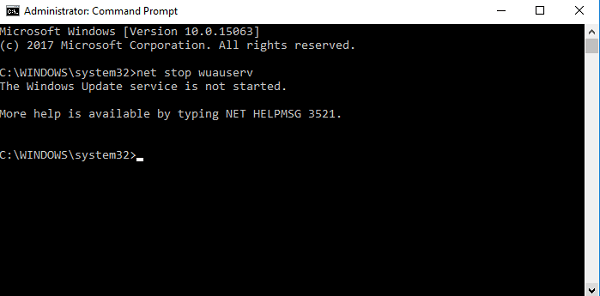 When UAC dialog box appear click Yes to continue.
The above command will stop Windows Update service (To stop all the downloads happening in the background).
4. Enable the option to show hidden files in Windows 10. For that, File Explorer -> Switch to View Tab -> Check Hidden items box. This step will show all the hidden files available on your system in each folder.
Note: If hidden items option is not enabled, you will not be able to find folder listed in upcoming steps.
5.  Navigate to C:\Windows\SoftwareDistribution\Download and delete all the files and folder available in the Download folder.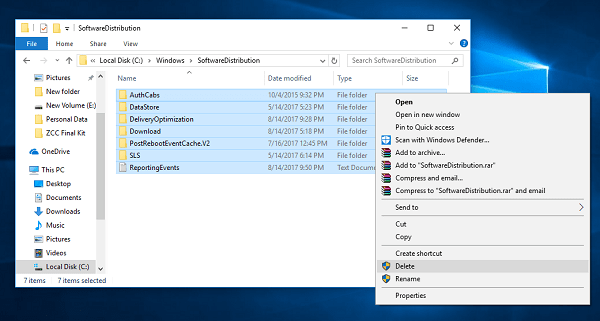 If you see the Folder Access denied error, click on the Continue.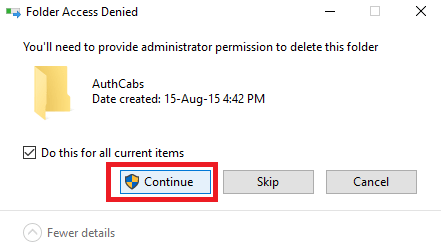 Note: Make sure to delete files and folders available in the Download folder.
6. Reboot your system.
Now again run Windows 10 update assistant and check if this fixes the issue.
5. Tweak $GetCurrent Folder
This method is suggest by Microsoft itself on the Microsoft support page. If all the method suggested above failes to fix the issue, then you must try this workaround too. Here is what you're required to do:
1. Open File Explorer.
2. In the Address bar copy paste C:\$GetCurrent and hit Enter. This will open the GetCurrent folder.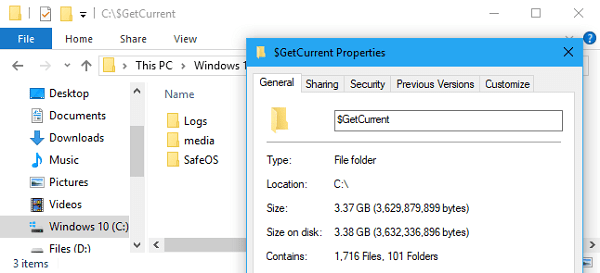 3. In the folder, you need to look for file named as Media. If its not available, then switch to View tab and check the option which reads "Hidden items".
You need to copy and paste the Media folder to another location let say Desktop.
4. Restart your system.
5. Follow step 2 to reach GetCurrent folder.
6. Copy-Paste the Media folder from desktop to the GetCurrent folder.
7. Open the Media folder and make double click to run the setup.
8. On "Get important updates" screen, you need to select "Not right now" and then choose Next. This will start the update process.
9. Once all done, you need to keep in mind that all the available updates are installed. For that, Press WIN + I to open Settings (check here) -> Update & security -> Windows Update -> Check for updates.
That's it. This will help you in updating your system to latest versions.
6. Manual Update using Media Creation Tool
You can also upgrade your current system to latest build available using Media Creation tool. Here is how you can do that:
1. Download Media Creation Tool from Microsoft official website.
2. Run the MediaCreationTool.exe file.
3. On "Microsoft Software License Terms" screen, click on Accept button.
4. On "What do you want to do" screen, select "Upgrade this PC Now".
5. Now tool will start downloading the latest build available. Once download is complete follow the instrcuctions to install the update.
Note: During the process make sure, "Keep personal files and apps" option is selected.
7. Clean Installation of Windows 10
In case all the steps suggested above failes to fix the issue, then last resort is to perform clean installation of Windows 10 with the latest build available. You can check this Microsofts Answer thread for detailed tutorials.
That's it!
So these are possible ways using which you can fix Windows 10 Update Assistant Stuck at 99% issue. You can use the comment section and let me know how you fixed this issue.