We have all read about stories on the internet of shady dealings and occurrences on the dark web. There are movies, novels, TV shows that allude to the dark web, but what exactly is the dark web? How can we visit websites on the dark web? And importantly, what are the best dark web websites?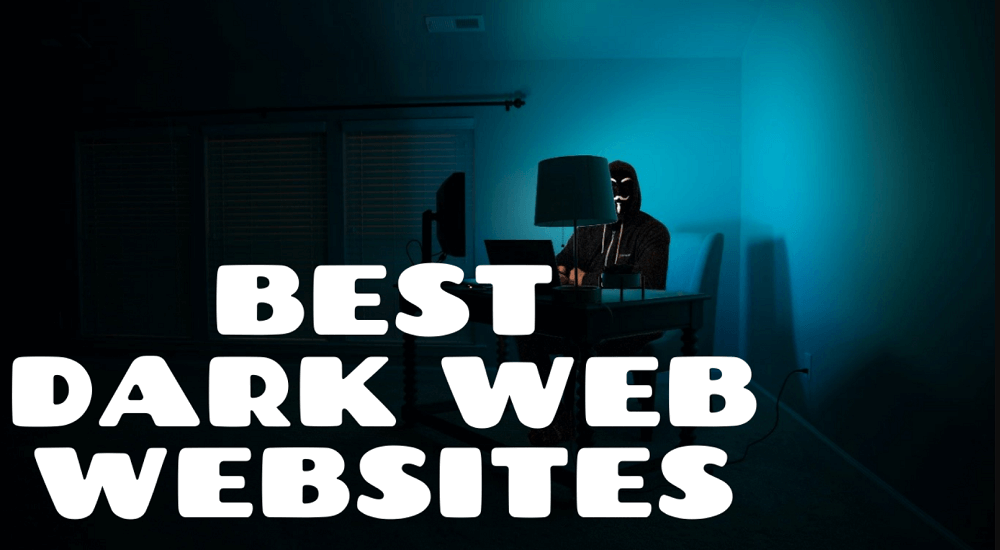 What is Dark Web?
The dark web is a platform for hosting a wide array of activities, everything from human rights publications, dissenting opinions, and even nefarious dealings and activities.
Unfortunately, The dark web is a network that cannot be visited unless certain conditions are met. And all of the above require the utmost privacy and protection of identity. The dark web caters to that end. Anonymity is a common feature observed across all facets of the dark web.
How to Access Sites on Dark Web
One can't just launch a default web browser on the computer and visit a particular dark web site. Although there are several methods of safely navigating the dubious dark web. The method we recommend is to make use of One of the most popular software is Tor or The Onion Browser.
Why Tor? It's because the Tor browser uses Onion Routing, a term for protected, encrypted, and nearly impossible to crack communication.
The websites you would visit using Tor would have a '.onion' domain and are called onion websites. We will be going over the best dark websites worth visiting.
Best Dark Web Onion Websites
Now that you know everything about the dark web, here are some dark websites that we recommend visiting. Ensure that you take all safety precautions before visiting the dark web. The dark web can be dangerous, so please proceed cautiously.
We strongly recommend users make use of a VPN to Access the Dark Web. Although the Tor browser gives anonymity, it is always good to have an extra layer of security that VPN provides.
Now that you're aware of everything, let's start with the first site on our list:
1. The Hidden Wiki
This is the first and most handy dark website you should visit. It is a directory of '.onion' websites and other hidden surfaces.
Navigating through the dark web will become exponentially easier using The Hidden Wiki. This dark website will provide you with URLs of all sorts of onion websites. You can find websites quickly all in one place.
Onion URL – http://zqktlwiuavvvqqt4ybvgvi7tyo4hjl5xgfuvpdf6otjiycgwqbym2qad.onion/wiki/index.php/Main_Page
2. TorLinks
Like The Hidden Wiki, TorLinks is another dark website that maintains directories of other dark websites and hidden services. It is an alternative to 'The Hidden Wiki.'
TorLinks provides diverse categories of dark web links that may not be available on The Hidden Wiki. Besides, when exploring the dark web, you should have as much information as you can.
Onion URL – http://torlinksge6enmcyyuxjpjkoouw4oorgdgeo7ftnq3zodj7g2zxi3kyd.onion/
3. DuckDuckGo
Using a good search engine is crucial when surfing the web. It becomes all the more critical when surfing the dark web.
DuckDuckGo is a search engine that can even lookup '.onion' websites, which typical search engines like Google cannot do. It is convenient while you are on the dark web.
Combined use of The Hidden Wiki, TorLinks, and DuckDuckGo can polish your dark web onion site experience.
Onion URL – https://duckduckgogg42xjoc72x3sjasowoarfbgcmvfimaftt6twagswzczad.onion/
4. Proton Mail
Proton Mail is a very reliable emailing software that is safe and popular. You don't need to put in your personal information while creating an account. There is no record and mails are secured with end-to-end encryption.
Proton Mail even has a surface web version.
Onion Link: https://protonmailrmez3lotccipshtkleegetolb73fuirgj7r4o4vfu7ozyd.onion/login
5. BBC News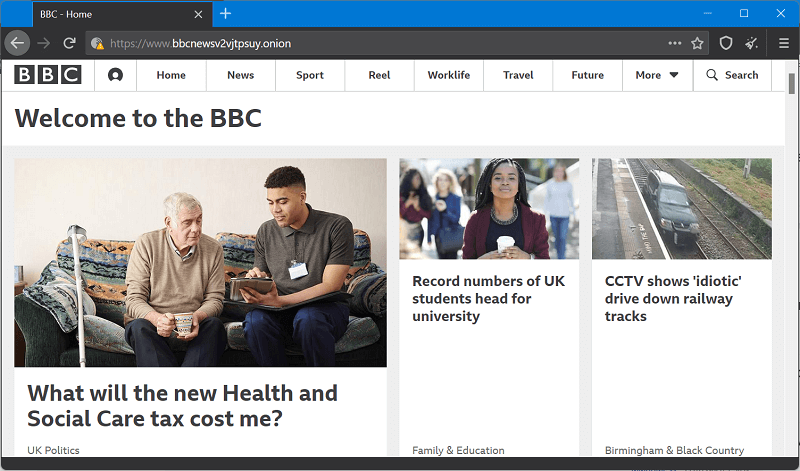 It is widely accepted that information is the most powerful weapon.
BBC News has launched a Tor version of their original site so that users can receive news even in countries where BBC News is banned.
The TOR version of BBC News has various languages which include, BBC Persian, BBC Arabic, and BBC Russian.
Onion Link: https://www.bbcnewsv2vjtpsuy.onion/
6. Facebook
It is no secret that Facebook has immense influence and power across the globe. People can share information, stories, data, and just about anything you can think of.
Given its ability to shape public opinion, many authoritarian governments worldwide have banned Facebook in their countries.
Luckily, Facebook has a dark web version that allows people to access the online network even in countries that prohibit it.
Onion Url – https://www.facebookwkhpilnemxj7asaniu7vnjjbiltxjqhye3mhbshg7kx5tfyd.onion/
7. Daniel
Exploring the dark web is time-consuming. You don't know where to begin, and then there are the long loading times.
Daniel, like The Hidden Wiki and TorLinks, maintains a database for numerous dark websites. The unique part about Daniel, though, is that it shows you which websites are online.
Onion Link: http://danschat356lctri3zavzh6fbxg2a7lo6z3etgkctzzpspewu7zdsaqd.onion/
8. SecureDrop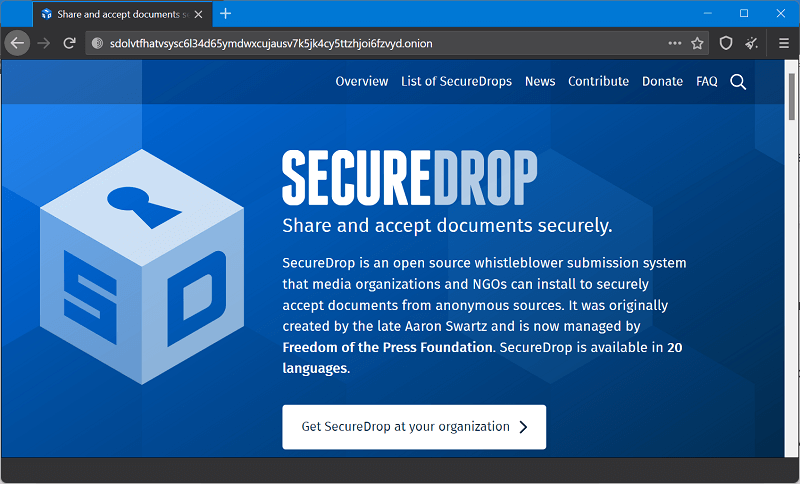 We often observe that whistleblowers suddenly take back their accusations or statements, or no further allegations are substantiated against influential individuals and organizations.
The threat to their safety is alarmingly accurate. SecureDrop is an onion website on the dark web that eliminates this risk of exposure of the identity of journalists and whistleblowers.
It is a great platform for exchanging and proliferation authentic, unbiased, and reliable information and news. Some examples include Reuters, Forbes, and The Financial Times.
Onion URL – http://sdolvtfhatvsysc6l34d65ymdwxcujausv7k5jk4cy5ttzhjoi6fzvyd.onion/
9. Archive.Today
Sayings like "the past dictate the direction of the future" have been widely advocated since time immemorial. It is only natural to keep historical records of data and heritage.
Archive.Today is an onion website that keeps records of data and the culture of the internet. Anyone can access data, news, scientific reports, etc., on companies and governments through this dark website.
Onion URL – http://archiveiya74codqgiixo33q62qlrqtkgmcitqx5u2oeqnmn5bpcbiyd.onion/
10. Deep Web Radio
Since your device will not be running anything else while you're on the dark web, you should consider Deep Web Radio. You can tune in to any of the few channels of the Deep Web Radio to find the music you like.
Onion Link: http://anonyradixhkgh5myfrkarggfnmdzzhhcgoy2v66uf7sml27to5n2tid.onion/
11. Riseup
Privacy is vital in almost every aspect of life; exchanging emails as well.
Riseup is an onion website that facilitates the safe and secure exchange of emails. It is popular among individuals and groups who want to share sensitive or confidential information through a secure network.
Riseup does not track the content of emails, nor does it record it. It is a safe way to organize an encrypted exchange of information.
Onion URL – http://vww6ybal4bd7szmgncyruucpgfkqahzddi37ktceo3ah7ngmcopnpyyd.onion/
12. Ahmia
Ahmia is another recommended search engine for the dark web. It will index a list of onion websites and filter out any website with abusive or explicit content. It has also published fake websites for the benefit of users.
Onion Link: http://juhanurmihxlp77nkq76byazcldy2hlmovfu2epvl5ankdibsot4csyd.onion/
Conclusion
The Dark Web has a notorious reputation for hosting a platform for criminal and evil activities. While many of the scary stories you might have heard be true, many people surf the dark web for innocuous purposes.
The charm of the dark web captures the curiosity of many people. However, it is essential to take measured precautions before diving into this thrilling yet dangerous part of the internet.
The dark web has a variety of onion websites that will interest you. The identity of the user, however, must be protected at all costs. As handy as the dark web is, it can be increasingly punishing.
We wish you luck on your venture into this mysterious and captivating world. Be safe. Be cautious. Good luck.
As an independent platform, it takes a lot of effort to create and curate quality content daily. Our content is totally funded by users like you.
Therefore, if you find information on this website useful, we kindly ask for your support in maintaining the longevity of our platform. If each person who benefits from our website contributes, we can secure a brighter future for our website.
Donate on Paypal or Buy us a coffee if you find the information shared in this blog post useful. Mention 'Coffee' in the Subject. So that I can thank you