The people all across the globe are under attack of the Corona Virus. The following blog post has instructions on how to track Corona Virus cases worldwide.
Microsoft recently updated Bing with a new and handy web page that gives users real-time information about Corona Virus. The map available on the web page lets users zoom in on particular areas to know information related to Corona Virus, like Total Confirmed Cases, Total Recovered Cases, Total Deaths, related news, videos and even more.
What makes this web page special is that all the information available is in real-time and comes from reliable sources such as CDC, WHO, ECDC, and Wikipedia.
Bing Corona Virus Tracker (COVID)
You can visit the Bing COVID Tracker web page to get updated in real-time. Apart from this, you can also install this web page as App on your computer using Microsoft Edge. Here's how you can do that:
Launch Microsoft Edge browser and visit Bing Corona Tracker.
Next, click on the Settings and more (…) icon and select Apps > Install this site as an app.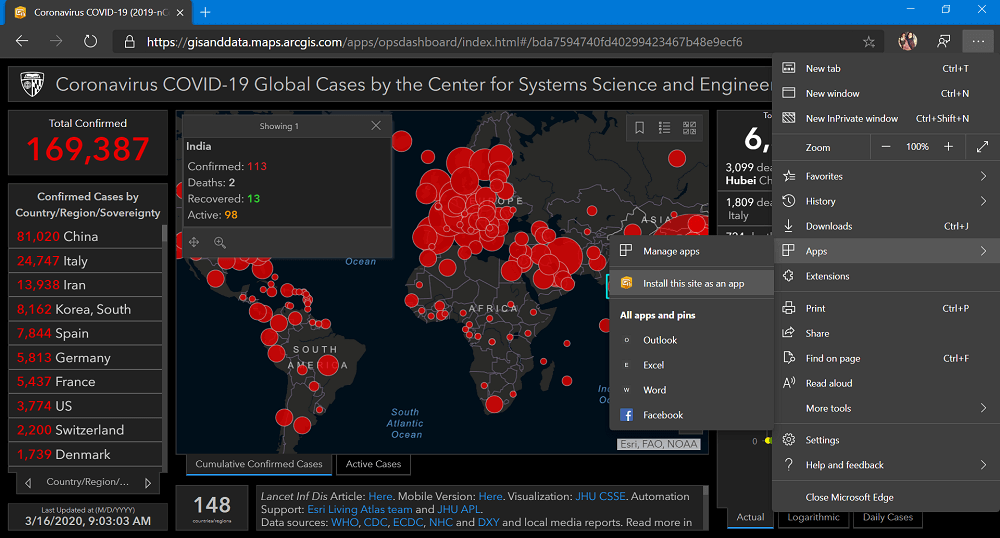 A quick dialog box will open, here you can give name to the app and then click on the Install button.
The application will appear in the list of all apps on Windows 10 and from there you can add it to the Start menu or drag it to the Taskbar or to the Desktop for quick access to Coronavirus information.
Do you use any other website to monitor the current situation and stay updated on the Coronavirus? Tell us about it in the comments below.