Want to unlock Google Chrome material design look? The following blog will guide you through the steps.
From last few years, Google is working to provide a new look to its suite of apps. You might have seen a new design for the Calendar app, refreshed Google News, and refined Gmail.
Starting this year, Google revealed Chrome browser will be the next app to get a redesign. It is important because Chrome is a popular web browser and share market share of about percent on both desktop and mobile.
It is expected that Google Chrome new layout will go live this year for all the users. In case, you want to become an early adopter and want to preview the redesign right now. Keep reading for information about how to get it.
How to Unlock the Chrome Redesign Preview
To preview Chrome redesign, you need to enable two Chrome flags. The flags are available for Chrome OS, Windows, Mac, and Linux. Here is what you need to do:
Note: Previously you need to be running Chrome Canary version to get access to Chrome Redesign, but it is not necessary now.
1. Launch Google Chrome browser.
2. In the address bar, you need to type chrome://flags and hit enter.
3. Here, you need to search top-chrome-md, when "UI Layout for the browser's top chrome" flag comes up, use the drop-down and select Refresh.
4. After that,  secondary-ui-md, when "Material Design in the rest of the browser's native UI" flag comes up, use the drop-down and select Enabled.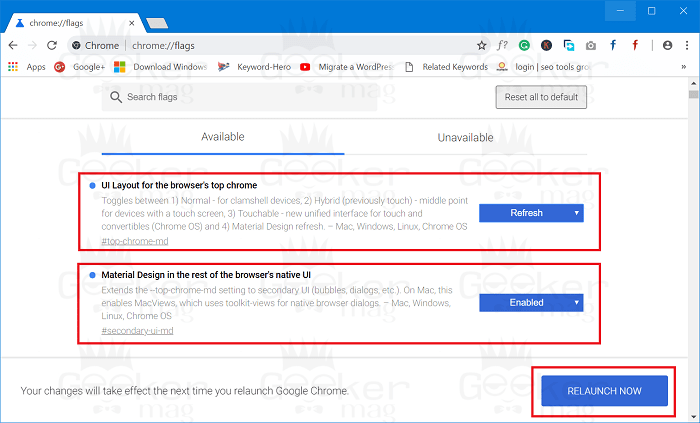 5. Once you're done with both Chrome flags, you need to click on Relaunch Now button to apply the changes.
This time Chrome browser will load up with new material design layout.
Warning: All the Chrome flags are experimental. After enabling these flags, browser might behave abnormally or encounter expected issues. So keep these things before enabling both flags.
Apart from that, these Chrome flags can do more than what you expect, they will not only let you preview new material design, but also improve the performance of the browser.
In case, you want to revert back from Chrome of future to current, then undo the step discussed and relaunch browser.
New Chrome redesign looks neat and clean. Why don't you give it a try and share your thoughts in the comment.