Microsoft recently tested a Bing Search bar on the desktop of Windows 11 but it never made upto to Windows 11 stable. Now the same search box appears on the Windows 10 desktop automatically.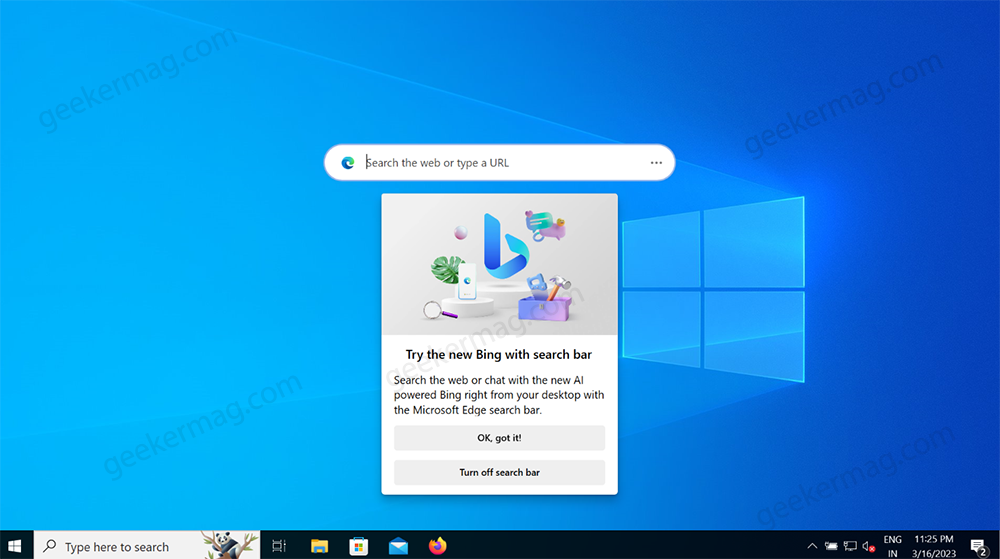 Most users see the Bing search bar on the desktop of Windows 10 after updating to Microsoft Edge (Stable) 111. It opens automatically whenever you open Microsoft Edge or sometimes without it. It is identical to the Edge bar that Microsoft added in the Edge browser last year but later removed it.
The Bing Search box or Edge Bar, which is center aligned, appears on the top of the screen. When you type your query in the space provided and hit enter or click the search icon, it opens search results in the Edge browser which is powered by Bing search.
How to Disable New 'Bing Search Bar' on Windows 10 Desktop
In case, you find the new Bing Search box annoying and don't want to see it on Windows 10 desktop, then you can hide it. The new desktop search box is enabled via Microsoft Edge, so the option to hide it is also available in Edge settings.
Here's what you need to do:
Click on the (…) icon on Microsoft Edge.
In the Menu that opens, click on the More tools > Open Search bar. You need to unselect this option to hide it. And select again, to show it on the desktop.
As simple as that!
It's unclear why Microsoft brings the Bing Search box or Edge Bar to Windows 10 via Microsoft Edge. But the fact is that it's available for Windows 10 users.
What is your opinion about Microsoft adding the Bing Search box on the desktop of Windows 10 which is enabled via Microsoft Edge? Are you going to use it? Let me know your opinion in the comments.