Looking for a way on how to remove Avast Safeprice extension from Chrome and Firefox? The following blog post will guide you the steps.
Avast Antivirus is a free internet security program available for Windows, Mac, Android and iOS devices. The people all across the globe use it.
Avast Antivirus setup includes various essential components, and all of them installed automatically on the computer along with Antivirus, especially if you don't uncheck the component boxes available under Customize installation in the setup window. Avast SafePrice browser extension is one component out of them.
What is Avast SafePrice Browser Extension?
Avast SafePrice is a price comparison and coupon extension from Avast.com. It helps in finding the best deals, prices, and coupons when you're shopping online.
It is available for Chrome and Firefox browser.
How does it work?
After installing the extension on your browser, if you search for the product, you want to purchase online from a favorite online store like Amazon, eBay or more. The extension will automatically look for reputable, and trustworthy online shopping stores. After that show you the complete list of free coupon and the best online deal available.
To grab the deal, you need to click on the deal, and it will automatically redirect you to purchase page of that particular store.
How to Remove Avast Safeprice Extension
Cool concept, right? Lots of users find this SafePrice extension from Avast useful. But some users find the whole interface on the browser annoying. And if you're reading this blog post, then you're one out of them, right?
There are lots of users who want to remove Avast Safeprice extension from Chrome and Firefox but don't know how to do that. In the upcoming lines, you're going to read step by step instructions on how to do that:
Disable Avast Safeprice Extension
In case, you want to disable the Avast SafePrice extension temporarily, then here's what you need to do:
Chrome: Click on Hamburger icon -> Settings -> Tools -> Extensions. Here move the toggle button for Avast SafePrice extension to OFF position.
Firefox: Click on Menu icon -> Add-ons. Here click on the Disable button next to Avast SafePrice add-on.
In case, you have made up your mind and want to get rid of Avast SafePrice from Chrome and Firefox browser, then here go the steps for both browsers.
Steps common for both browser
First of all, try to uninstall SafePrice extension from Chrome and Firefox browser just like any other extension. In case, if you don't know how to do that, then following the steps discussed in upcoming lines, head over to extension or add-ons page and then instead of making a click on Disable button, select Uninstall. 

Note: Make sure to answer the feedback form and then click on Submit button. If you miss this and close the window, this will not complete the uninstall process.

If this remove Avast SafePrice extension from the browser, then you can skip the upcoming steps. Or you still seeing the offers, then follow the steps in upcoming lines:
How to Remove Avast SafePrice from Firefox & Chrome
1. Launch Avast Free Antivirus Interface.
2. Next click on the Menu icon available on the upper right corner and select Settings.
3. Here, switch to Components tab. On the right panel, head over to SafePrice Browser Extension and then click on it.
And then click on the Uninstall Component link and then OK.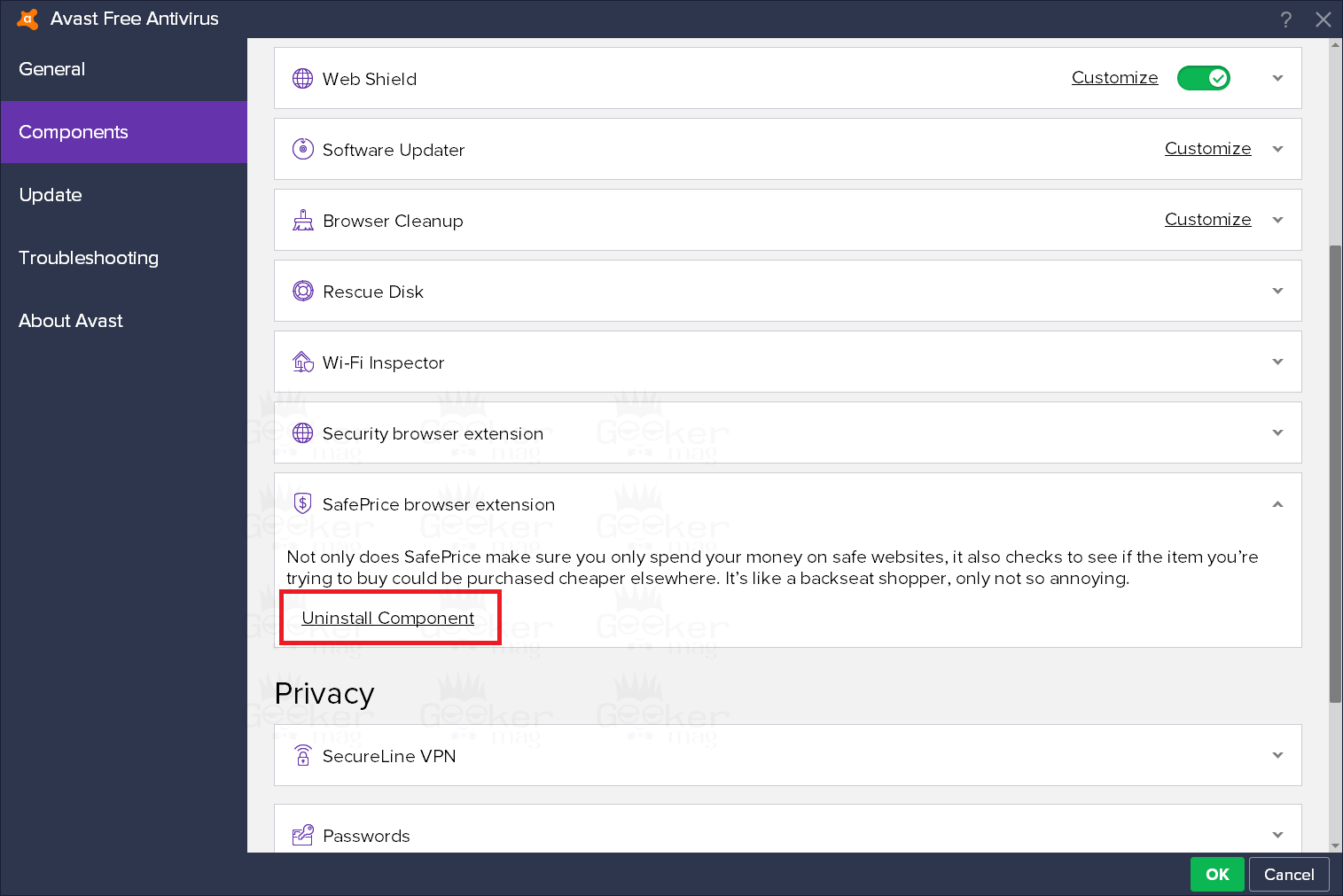 Once done, reboot your computer to apply the changes.
Alternate method via the Settings app
1. Launch the Settings app in Windows 10
2. Click on the Apps -> Apps & Features.
3. On the right pane, scroll down until you reach Avast Free Antivirus and click on it. Next click on the Modify.
When UAC dialog box appears, click Yes to continue.
4. Here, click on the Modify.
5. In the Next screen, uncheck the box for "SafePrice Browser Extension" and then click the Change button.
Wait for few seconds and when you see the following screen click on the Done button.
At last, reboot your machine.
Tip – You can also remove other Avast antivirus components using the same workaround.
This is how to remove Avast SafePrice from Firefox, and any other web browser. I hope you find this blog post useful.
Donate on Paypal or Buy us a coffee or Join Patreon if you find the information shared in this blog post useful. Mention 'Coffee' in the Subject. So that I can thank you.