If you purchased a new Samsung Galaxy A51 and unable to turn it off? The following blog post has all the possible ways to do that.
It sounds funny, but it's not easy to Power-down Samsung Galaxy A51. Because the earlier method to turn off the device is not working. It seems like the company has changed the way it works previously.
Turn Off Samsung Galaxy A51
When you press and hold the Power button on your Samsung Galaxy A51, instead of bringing the Power menu, it activates the Bixby. So the question is how do you turn off the Galaxy A51 phone? Read on.
Fortunately, there are three ways using which you can turn off Galaxy A51. Let's start with the first one:
Through Quick Settings
On your home screen, swipe down from the top to bring the Notification Shade. Here, you will see the Power icon on the right side. Tap on it.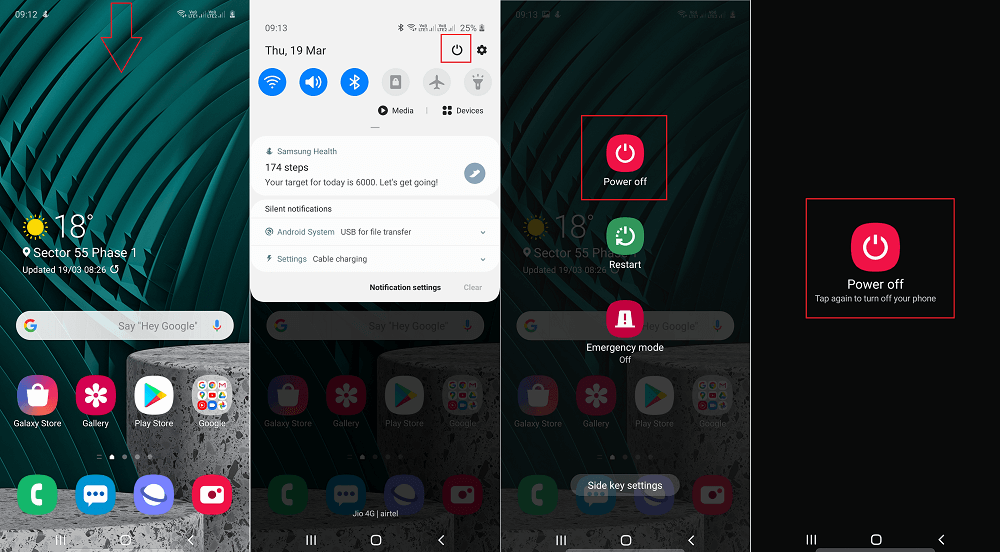 Power menu will appear, here tap on the Power off and then tap Power off again.
Using Power/Volume Combo
On the right side of the phone, there are Volume and Power keys. You can use those keys combination to turn off the phone.
Press and hold the Power and Volume down buttons at the same time. The Power menu will appear, you have to tap on the Power button and then Power Off again.
You might be interested in reading: How to turn off the Galaxy A51 by holding down the Power button
Using Bixby
Hold down the Power button, until the Bixby logo appears on the screen.
Next, you need to say Power down, Turn off or anything related. Bixby will confirm your operating by asking Do you want me to turn off your phone? or similar.
Either reply Yes or Tap on the Power Off button to turn off the device.
Useful information – These methods work on all the Samsung devices running One UI 2.0. For example M31, M30s or similar.
Recommend Purchase – You can use the following link to purchase the Samsung Galaxy A51 device from Amazon.
Buy Samsung Galaxy A51 from Amazon
Which method are you going to prefer to turn off your Samsung Galaxy A51? We would like to hear from you in the comments.