Guess what? You can now use YouTube Music as a media player to play files stored on your Android phone. Learn how to do it.
YouTube Music is a music streaming service which focuses on music discovery. Google is promoting this service at its best as an excellent replacement for Google Music Player. Still, it's not ready yet as it lacks lots of features which an ideal media player must have.
Recently, the company introduced a new feature to YouTube Music. Now, you will be also able to play music which is stored in your local storage through youtube music app.
The new feature was first implemented in v3.07.52 and also the part of v03.07.54. While using the application you won't find any changes; even you can't open the local music files right from the app interface just like you do in Google Music.
In case, you're using the latest version of YouTube music app on your device, then you can use it to play music files stored locally.
Use Youtube Music as a Media Player
In case, you want to try this new feature of YouTube music, then here's what you need to do:
Open the file manager on your smartphone.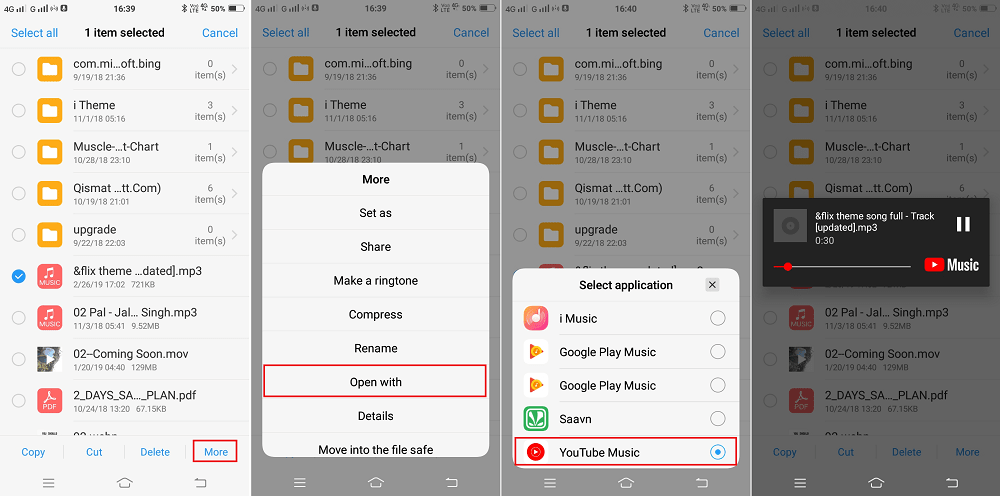 Long press on any audio file and select the option "Open with." This will quickly bring the selection menu, tap on the YouTube Music option.
Voila! The audio will then start playing through Youtube music app. Following these steps, you can play any audio file stored locally on your device. Since YouTube Music is not ready as a media player, so you won't be able to play audio files in the background.
While testing the feature, we figure out that it supports a wide number of media file formats which includes MP3, WAV, OGG, M4A encoded with FLAC and AAC.
We hope that you found this blog post handy. Would you like to ue YouTube Music as default media player on your device? Let us know your thoughts in the comments.
Himachali, Mechanical Engineer, Snooker Lover, Avid drinker of Scotch, Content Creator, Traveller and Shorter than you (probably).