Recently, Google confirmed that they're working on to bring Reader Mode for Chrome on Windows, Mac, and other platforms. The same feature is already available for Chrome on Android with name Simplified View.
In the Chrome v4, the company introduced one of the most wanted Dark mode feature, right? Recently, Google released the Chrome v75 with new features and one out of them is Reader Mode a.k. Distill Page.
Google developers were working on bringing a Reader Mode to Chrome on the desktop from last few months, as reported by Techdows. The feature was first introduced in Chrome Canary version v75.0.3769.0 as a flag with name "Enable Reader Mode" which was first reported by the
Starting with Chrome v75, the company also added the same flag into the stable version. It means you don't have to use Chrome Canary or any other hack (the one mentioned below in the post) to try the feature.
Enable Reader mode in Chrome for desktop
If you want to try Simplified mode or Reader Mode in Chrome for Desktop, then here's what you need to do:
1. Update Chrome to the latest version available i.e. Canary v75.
2. Next, in the address bar copy-paste following flag address:
chrome://flags/#enable-reader-mode
And hit enter. This will highlight the flag with name "Enable Reader Mode."
3. With default settings, the feature is disabled. Using the drop-down change the settings from Disabled to Enabled.
4. To apply the change, click on the Relaunch button. This will enable the Reader Mode in Chrome for Desktop.
Once the feature is enabled, a new entry with the name "Distill page" will start appearing in the Chrome Menu.
To read and view the article in a reader mode, all you have to do is to open the web page and click on the Distill page option in the Chrome menu. This will instantly open the page in simplified or reader mode.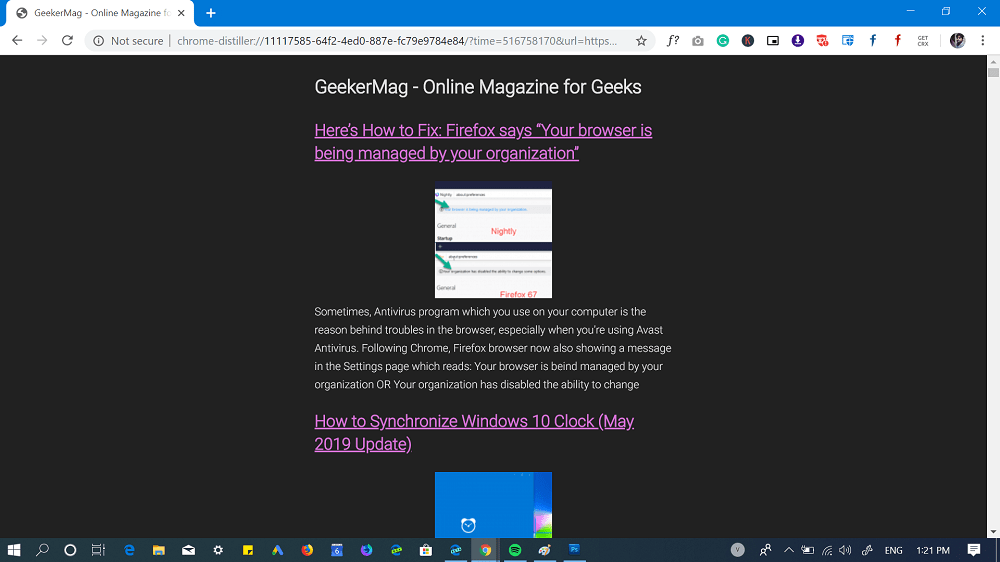 In the Reader mode, you will not find distracting elements on a web page which include ads, sidebar, navigation buttons and other. Apart from this, the page will open a seperate tab with less clutter.
To exit the Reader mode for web page, all you have to do is to click on the back button.
Like other Chrome Flags, the reading mode is still in an experimental phase and is not yet ready for everyday use: there are several bugs, especially related to image rendering. However it is definitely more than usable, as well as being a preview of the final release.
Did you manage to enable reading mode in Chrome? If Yes, why don't you give a try to new Chrome Reader mode feature and let us know your thoughts in the comments?